金屬3D積層製造

金屬3D列印


Metal 3D Additive Manufacturing

Metal 3D Printing
金屬3D積層製造雷射設備
Metal 3D Additive Manufacturing
Laser Equipment
型號 TSLM | Model TSLM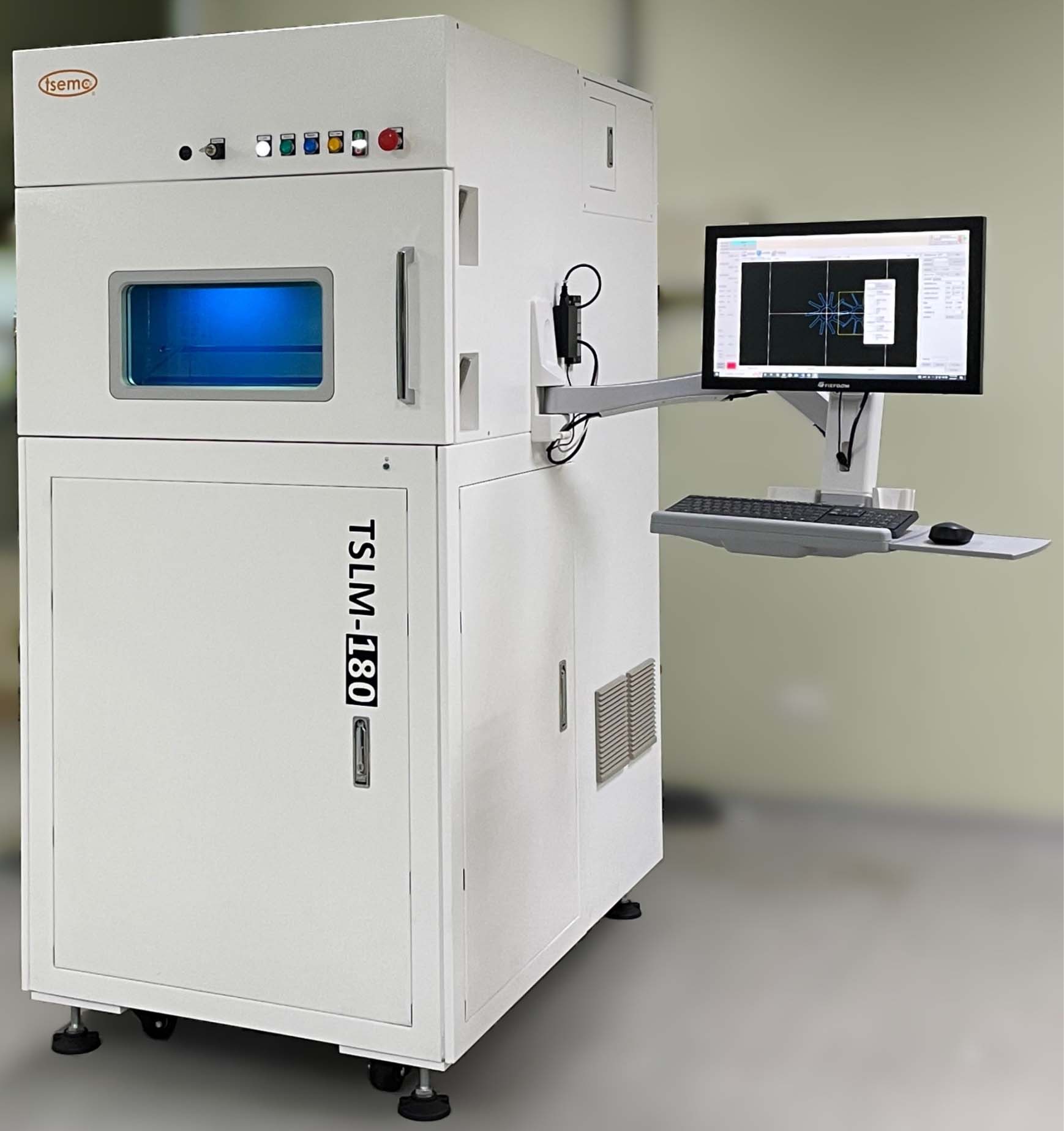 TSLM 特性:
應用在金屬3D列印
選擇性雷射鎔融 (粉末床鎔融)
機台尺寸:990 * 920 * 1800mm(依需求)
成形尺寸:Φ 150 * H 150mm(依需求)
鋪粉層厚:20 ~ 100um(可調整)
雷射功率:200 ~ 500W(依需求)
緻密度:>99.5%
金屬粉末種類:不鏽鋼(316、420J2)、麻時效鋼、鎳合金、鋁合金、鈦合金
適合產業:模具、工具、生醫、航太零件
TSLM Features:
Application Metal 3D Printing
Selective Laser Melting (Powder Bed Fusion)
Machine Size : 990 * 920 * 1800mm
Print Size : Φ 150 * H 150mm(Based on demand)
Layer Thickness : 20 ~ 100um(Adjustable)
Laser Power : 200 ~ 500W(Based on demand)
Density : >99.5%
Powder : Stainless steel(316、420J2), Maraging Steel, Ni718, AlSi10Mg, Ti6Al4V
Molding, Tooling, Biomedical, Aerospace component
---
技術代工服務 - 金屬3D積層製造
Technical Foundry Service
Metal 3D Additive Manufacturing
服務說明
Service Description
友晁是以自主雷射設備+列印製程+客製化軟體為技術核心進行雷射金屬3D列印代工服務,並以創新的製造思維,突破傳統工業手法, 將3D立體物件切成2D平面圖案,藉由重複鋪粉與雷射熔融固化過程,可輕易地建構出複雜形貌及特殊內部鏤空結構,進而實現傳統加工機無法製作之工件。
主要推廣於金屬零件、水路模具、熱交換元件、客製醫材、航太零件、文創藝術…等應用。能協助您快速實現設計構想、降低開模成本、少量多樣客製化生產、縮短學術研究及產品開發時程。
With its own laser equipment + printing process + customized software as the core technology, TSEMC provides laser metal 3D printing OEM services, and uses innovative manufacturing thinking to break through traditional industrial techniques to cut 3D objects into 2D Plane patterns, through repeated powder spreading and laser melting and solidification processes, can easily construct complex shapes and special internal hollow structures, thereby realizing workpieces that cannot be produced by traditional processing machines.
Mainly promoted in metal parts, conformal cooling molds, heat exchange components, customized medical materials, aerospace parts, cultural and creative arts... etc. Can help you quickly realize design ideas, reduce mold opening costs, small and diverse customized production, and shorten academic research and product development timelines.
代工聯絡窗口 / Contact Window
陳正雄 先生 / Victor Chen
電話 / TEL : (+886)37-585-666 #2800
電子信箱 / E-Mail : sales@tsemcorp.com
下單流程 & 說明
Order process & instructions
步驟 1
STEP 1

聯絡業務與提供圖檔

Contact Sales and Provide Drawings

.聯絡業務人員提供需求與圖檔,選擇材料和後處理,檔案格式(STL),一個物件一個檔案。
.郵寄夾檔檔案大小20MB以內,若超過請提供下載連結。

.Contact the business staff to provide requirements and drawings, select materials and post-processing, file format (STL), one file per object.
.The file size of the mailing folder is less than 20MB, if it exceeds, please provide a download link.

步驟 2
STEP 2

專人評估報價

Evaluates / Quotation

.專人聯絡評估需求並報價,若為急件,則視情況收取急件費用。
.計價方式:依照列印工件之重量、尺寸、複雜度、製作時間、加工需求、品質需求、後處理與運送方式(尺寸與運費)進行審核計價。

.A person will be contacted to assess the demand and quote, if it is urgent, the urgent fee will be charged according to the situation.
.Pricing method: According to the weight, size, complexity, production time, processing requirements, quality requirements, post-processing and shipping methods (size and freight) of the printed workpiece, the valuation is performed.

步驟 3
STEP 3

客戶確認報價與規格

Customer Confirms Quotation and Specifications

.客戶確認報價規格內容。
.同意與匯款(訂金or全額)。
.代工輸出為客製化商品,恕不接受退換貨。

.The customer confirms the quotation specifications.
.Agreement and remittance (deposit or full amount).
.The OEM output is a customized product, and no return or exchange is accepted.

步驟 4
STEP 4

進行製作

Manufacture

.使用自主研發機台製作,金屬雷射燒結技術(SLM)。
.排程進行訂單成品製作與後處理。

.Using self-developed machine production, metal laser sintering technology (SLM).
.Schedule production and post-processing of finished products.

步驟 5
STEP 5

完成訂單

Complete Order

.完成成品製作後交貨(自取or寄送)。

.Delivery after the finished product is made (pick-up or send).
---
粉末材料
Powder material
可依客戶需求選用材料進行製作
Materials can be selected for production according to customer needs
不鏽鋼 / Stainless Steel (316、420J2)
麻時效鋼 / Maraging Steel
鎳合金 / Ni 718
鋁合金 / AlSi10Mg
鈦合金 / Ti6Al4V
---
案例分享
Case Studies
工業應用 / Industrial Application
異型水路模具
Special-Shaped Waterway Mould
金屬濾網結構
Metal Filter Structure
特殊散熱結構
Special Heat Dissipation Structure
文創應用 / Cultural And Creative Applications
創意造型戒指
Creative Shape Ring
可撓式金屬結構
Flexible Metal Structure
生醫應用 / Biomedical Applications
牙齒 / 齒模
Tooth / Tooth Mold